News & Events
Stay in touch, stay informed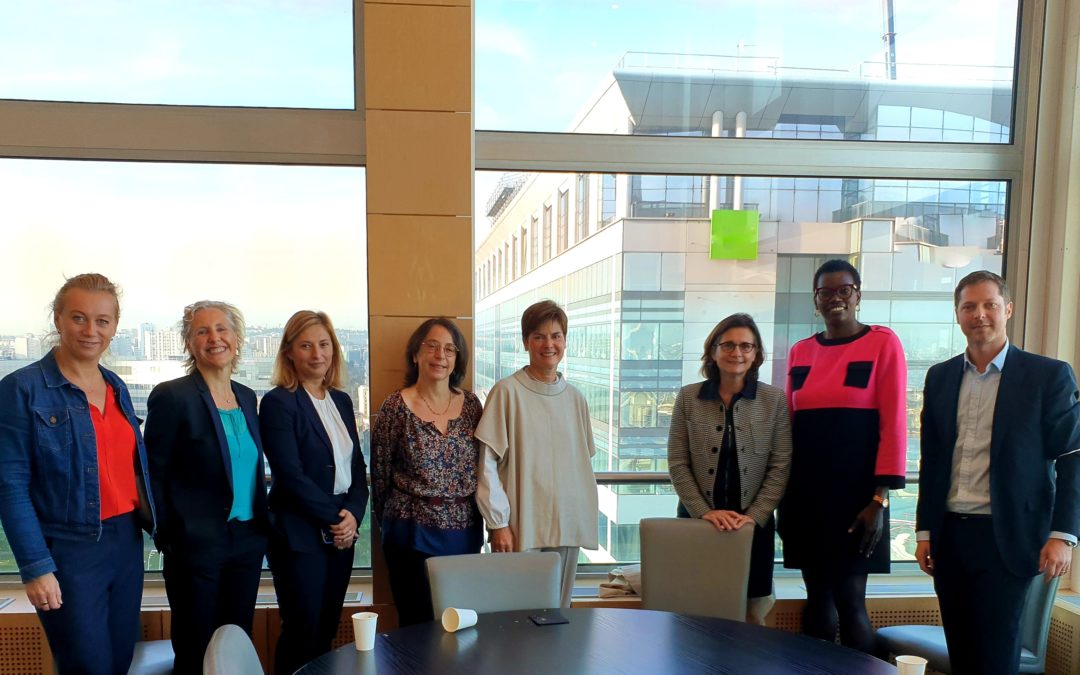 K Women Leader's tips in Paris with guest: Pascale Auclair, Secrétaire Général & Member of Board of La Française Group.
September update
– August and September saw the return of many investors towards Equity Growth funds. Asset managers saw strong inflows on the back of this trend. The summer ended with once again a positive month for global equities as the strong earnings momentum from US and European companies more than offset weaker macro releases across major regions, especially China, the rise of the delta variant and taper hints from the Fed.
 – With sanitary passed making this possible, we are finally back on the road, travelling and organising events. We are organising a K Women event in Paris on October 13th.
– Latin America has been generating lot of interest from investors since the beginning of the year. The MSCI LatAm equity index returning +35% over the last 12 months. We will be hosting a Latin America roadshow in Paris on October 18th. We will then be attending Monaco's FundForum on October 19th, 20th and 21st.
 – Roadshows are back and we are looking forward to meeting with you again face to face !
August update
– Global equities ended July slightly up as the positive surprises from the quarterly earnings' season were overshadowed by economic slowdown concerns, the rise of the delta variant and the Fed's tapering talks. All funds on the range (ex EM) showed strong positive returns, +330 to +710 bps each for the month. 2021 may be on route to another record equity year.
 – With vaccination and sanitary passports on the rise, we are hoping to get back to face to face meetings and roadshows from september.
July update
– As we are heading into a busy news week with Fed announcements, many Q2 earnings results and EU key data publications, July might reinforce the return of investors towards quality growth equity investing. All funds performed strongly in June, 100% outperforming their benchmark. We hosted Q2 updates and virtual roadshows with managers in July and, as August should get a little quieter, we are hoping to be back in front of clients in September as vaccinations figures are increasing everywhere.
June update
– As we are waiting for several important speeches this week, we are expecting further volatility until the end of the month as we saw during May. Despite uncertainty and the rotation, our fund managers haven't experienced much redemptions, confirming long term convictions in our funds. During the last 6 weeks, we have increased portfolio updates to ensure investors are fully updated and have access to managers
– New funds roll-out has been delayed due to administrative constraints but we are still hoping for 3-4 new funds during H2. Managers have been filing for SFDR and funds should be eligible for Article 8 and Article 9. Finally, we have reinforced middle office resources and have developed a transactions reporting tool to facilitate assets reconciliations and client servicing.
May update
– The positive trend in global equities continued in April amid an ongoing positive macro-economic backdrop (improving PMIs, recovering GDPs and solid employment numbers) and a strong start to the earnings season while central banks maintained their accommodative stance and governments discussed further fiscal stimuli.
 – During April and May, we hosted a full series of Zooms conferences with top speakers. We are now organising one-to-ones and follow-ups for those who could not attend.
 – Due to SFDR, we have been delayed on the roll out of  the next funds. We will also be sharing French factsheets for some funds from next month.
– As lockdown measures ease across Europe, we should also resume K Women initiatives soon. We have a great line-up of top leaders already for the next dates.
April update
– Global equities had a strong performance in March supported by the ongoing economic recovery and positive vaccine news flow. While defensive sectors recovered, cyclical sectors continued to perform well and the rotation triggered further profit taking in quality growth names. This "value" rotation has now lasted for more than 5 months. It is difficult to assess its duration as it will depend on macro factors like inflation, interest rates and the strength of the economic recovery. The current environment may offer some opportunities to buy, at attractive valuation levels, stocks that will eventually resume their outperformance. In this context, we have seen new incoming requests for information on equity and EM Debt funds in our range.
March update
– We are convinced to be in the early innings of a major period of disruption, pushed by rapid technology advancements and changing consumer preferences. Falling computing costs, the rise of artificial intelligence, and ubiquitous connectivity are dramatically changing how companies operate and the products they sell. Similarly, powerful themes are stemming from demographics. Finally, climate risk is changing consumer habits, pushing the adoption of clean technologies and the revolution of the energy ecosystem. Hence, we are also looking to market several exciting thematics funds – more news to come.
February update
– Global equities had a choppy start of the year. The risk-on trade continued in the first weeks of January, the trend reversed at the end of the month as new Covid-19 variants triggered new lockdowns but more importantly markets were shaken by one of the largest short squeeze in modern history. It is difficult to assess how long this de-risking process will take. While volatility is probably here to stay, we keep a positive stance for 2021 as fundamentals remain solid, supported by strong earnings momentum, recovering economic data, supportive fiscal policies and dovish Central Banks.
January update
– Overall, 2020 has been a challenging year nevertheless we managed great achievements:
tying a new partnership with $60bn group and one of largest independent investment group,
rolling out 3 new funds and adding Emerging Markets funds to our Ucits range,
ensuring 100% work continuity with Covid,
transitioning to further digital tools and marketing,
reinforcing our fund Due Diligence & Monitoring services team
taking over many new clients (from large institutions to HNW),
renewing our commitment to French Charity 'La Chaine de l'Espoir',
rolling out K Women and the first program 'Leader's Tips – Off record with Top European Leaders', thanks to some great CEOs