News & Events
Stay in touch, stay informed
March update
– February was a volatile month for equities amid rising interest rates, inflation worries and the escalation of the Russia-Ukraine conflict. On the Fixed Income side, sentiment has been negative since September, with negative performance figures since the beginning of the year. Nevertheless, history of investing has demonstrated that even if, temporarily, financial markets may be influenced by external events such as the ones currently on display, it is only a matter of time before rationality resumes.
February update
– January was a difficult month. The S&P 500 had its worst week since March 2020 and the Nasdaq its worst month since October 2008. Most equity funds saw their worst monthly performance for a long time. On the bond side, fears of slower growth and higher inflation have weighed on bond markets. The US yield curve flattened as markets anticipated higher interest rates in the near term. However, over the longer term, they priced in weaker growth and inflation numbers.
January update
– 2021 ended as the third consecutive year of strong performance for global equities, underpinned by more than 50% earnings growth, nevertheless it was another roller-coaster year with Covid but we managed some great achievements: 
Most of the funds (ex Latam and a new launched fund) delivered strong positive returns
2 new asset management strategic partnerships
5 new funds
added Fixed Income and Thematics funds to the range
maintaining 100% work activity during Covid
pursuing our digital transition with new tools
increasing significantly the investor base(from large institutions to IFAs & HNWs)
renewing our commitment to French charity 'La Chaine de l'Espoir'
maintaining our efforts with the K Women initiative, thanks to the trust and support of great European leaders
 2022 is looking again full of surprises but thanks to everyone's commitment, hard work and trust, we are in a great position to further scale K Funds this year.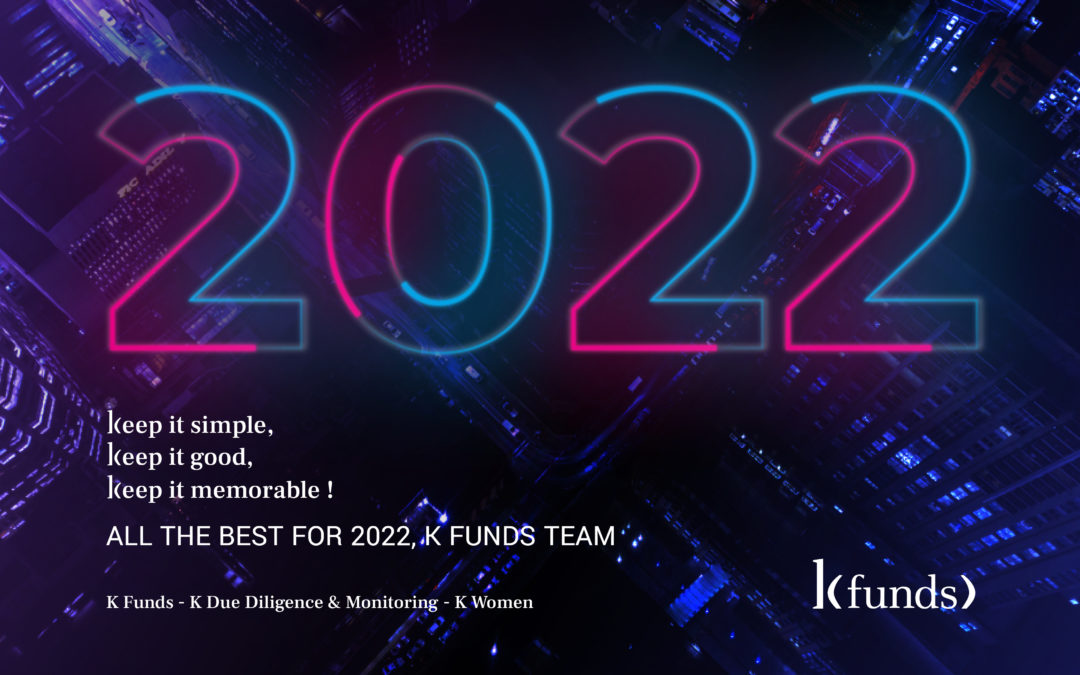 Wishes for 2022
December update
– Despite high volatility in Q4 and uncertainty for 2022, most investors remain fairly overweight on Equities. Last month again was a roller coaster. It started well but later in the month, investors' mood deteriorated following several lockdown announcements across Europe and the discovery of the new variant Omicron. Finally, Jerome Powell spooked markets by turning surprisingly hawkish, stating that inflation was no longer considered transitory and that tapering could happen faster than previously planned.
 – In terms of performance, the funds ended the month in negative territory, most rebounding a week later.
– Omicron is now compromising Q1 2022 roadshows & visits and so joy was short lived as foreign asset managers are moving back to full digital interactions.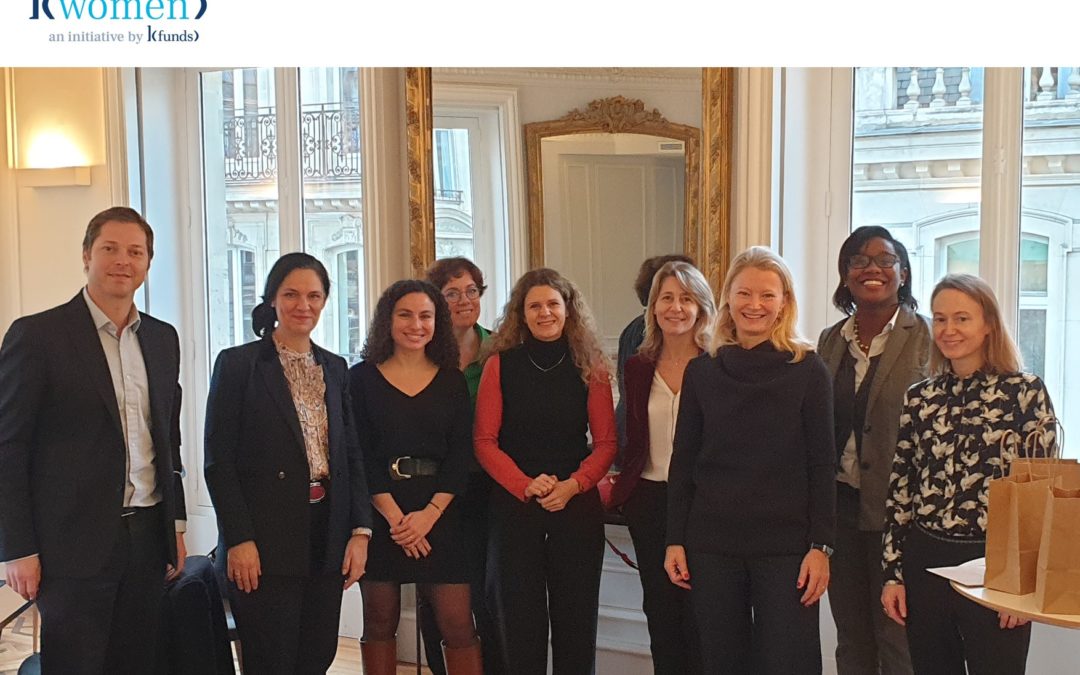 K Women Leader's tips in Paris with Anne de Lanversin, CEO of Generali Global Pension.
November update
– November has been the busiest month YTD in terms of marketing and client interactions on the back of October, which was the best month of the year for many equity markets. We hosted several roadshows. More dates to come although, Covid latest news are a concern.
– We are delighted to announce 2 new exciting partnerships to K Funds. One fund, joining the fund range, is a hydrogen-focused equity ucits fund. The other 2 funds are Fixed Income Ucits funds. These are K Funds' first Fixed Income funds and we are delighted to expand in this space with such a talented and awarded manager.
– Finally, we will be hosting our next K Women session in Paris on Dec 7th, as always thanks to the support of some great CEOs & talented leaders in Europe. We are hoping to host sessions in Geneva and Luxembourg early 2022 if Covid situation allows it.
October update
– Concerns about Chinese growth and a global reflation weighed on global equity markets in September, generating volatility across markets. Questions surrounding the liquidity of the Chinese construction sector raised concerns about a possible slowdown which could impact global growth. Hence many equity funds showed significant negative returns last month. October month-to-date saw a strong rebound with many funds recovering up to now. During those volatile times, our team remains fully available and on deck should you need any information or access to the managers.
– Roadshows and events are clearly back and increasing.
– Finally, we were delighted to resume our K Women sessions this month, thanks to the support of some great CEOs & talented leaders in the context of our programm: "K Women Leader's Tips'' (off records with Top European Leaders).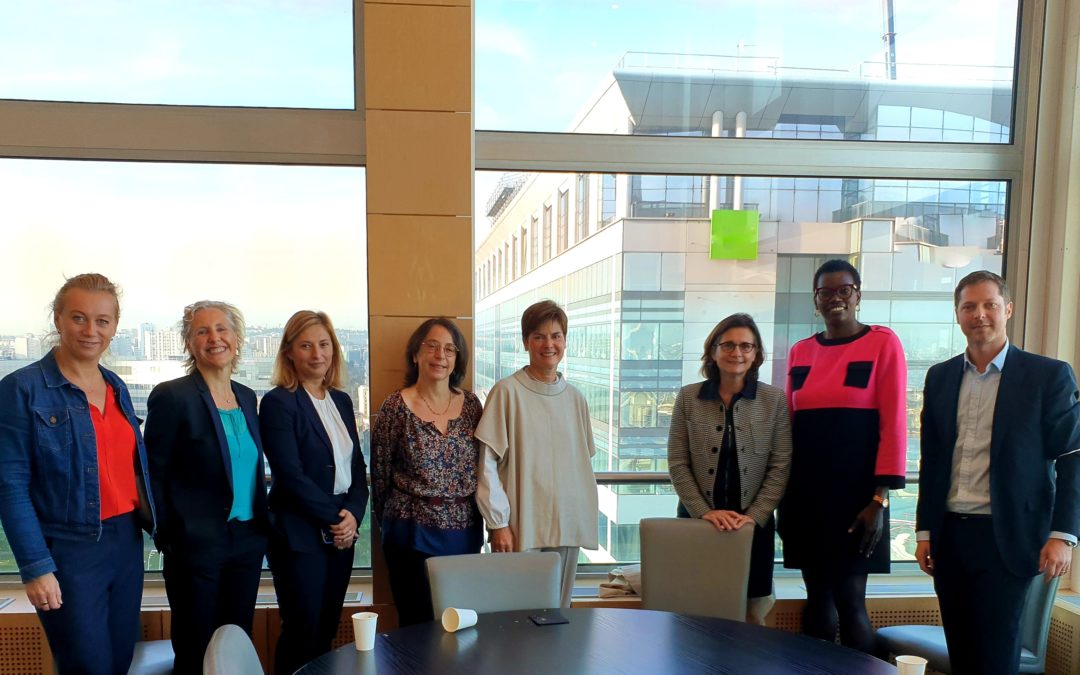 K Women Leader's tips in Paris with guest: Pascale Auclair, Secrétaire Général & Member of Board of La Française Group.
September update
– August and September saw the return of many investors towards Equity Growth funds. Asset managers saw strong inflows on the back of this trend. The summer ended with once again a positive month for global equities as the strong earnings momentum from US and European companies more than offset weaker macro releases across major regions, especially China, the rise of the delta variant and taper hints from the Fed.
 – With sanitary passed making this possible, we are finally back on the road, travelling and organising events. We are organising a K Women event in Paris on October 13th.
– Latin America has been generating lot of interest from investors since the beginning of the year. The MSCI LatAm equity index returning +35% over the last 12 months. We will be hosting a Latin America roadshow in Paris on October 18th. We will then be attending Monaco's FundForum on October 19th, 20th and 21st.
 – Roadshows are back and we are looking forward to meeting with you again face to face !