News & Events
Stay in touch, stay informed
April update
– Global equities had a strong performance in March supported by the ongoing economic recovery and positive vaccine news flow. While defensive sectors recovered, cyclical sectors continued to perform well and the rotation triggered further profit taking in quality growth names. This "value" rotation has now lasted for more than 5 months. It is difficult to assess its duration as it will depend on macro factors like inflation, interest rates and the strength of the economic recovery. The current environment may offer some opportunities to buy, at attractive valuation levels, stocks that will eventually resume their outperformance. In this context, we have seen new incoming requests for information on equity and EM Debt funds in our range.
March update
– We are convinced to be in the early innings of a major period of disruption, pushed by rapid technology advancements and changing consumer preferences. Falling computing costs, the rise of artificial intelligence, and ubiquitous connectivity are dramatically changing how companies operate and the products they sell. Similarly, powerful themes are stemming from demographics. Finally, climate risk is changing consumer habits, pushing the adoption of clean technologies and the revolution of the energy ecosystem. Hence, we are also looking to market several exciting thematics funds – more news to come.
February update
– Global equities had a choppy start of the year. The risk-on trade continued in the first weeks of January, the trend reversed at the end of the month as new Covid-19 variants triggered new lockdowns but more importantly markets were shaken by one of the largest short squeeze in modern history. It is difficult to assess how long this de-risking process will take. While volatility is probably here to stay, we keep a positive stance for 2021 as fundamentals remain solid, supported by strong earnings momentum, recovering economic data, supportive fiscal policies and dovish Central Banks.
January update
– Overall, 2020 has been a challenging year nevertheless we managed great achievements:
tying a new partnership with $60bn group and one of largest independent investment group,
rolling out 3 new funds and adding Emerging Markets funds to our Ucits range,
ensuring 100% work continuity with Covid,
transitioning to further digital tools and marketing,
reinforcing our fund Due Diligence & Monitoring services team
taking over many new clients (from large institutions to HNW),
renewing our commitment to French Charity 'La Chaine de l'Espoir',
rolling out K Women and the first program 'Leader's Tips – Off record with Top European Leaders', thanks to some great CEOs
K Women Leader's tips in Paris with guest: Sylvie Loire-Fabre, Chairman of the Board of BTP Bank.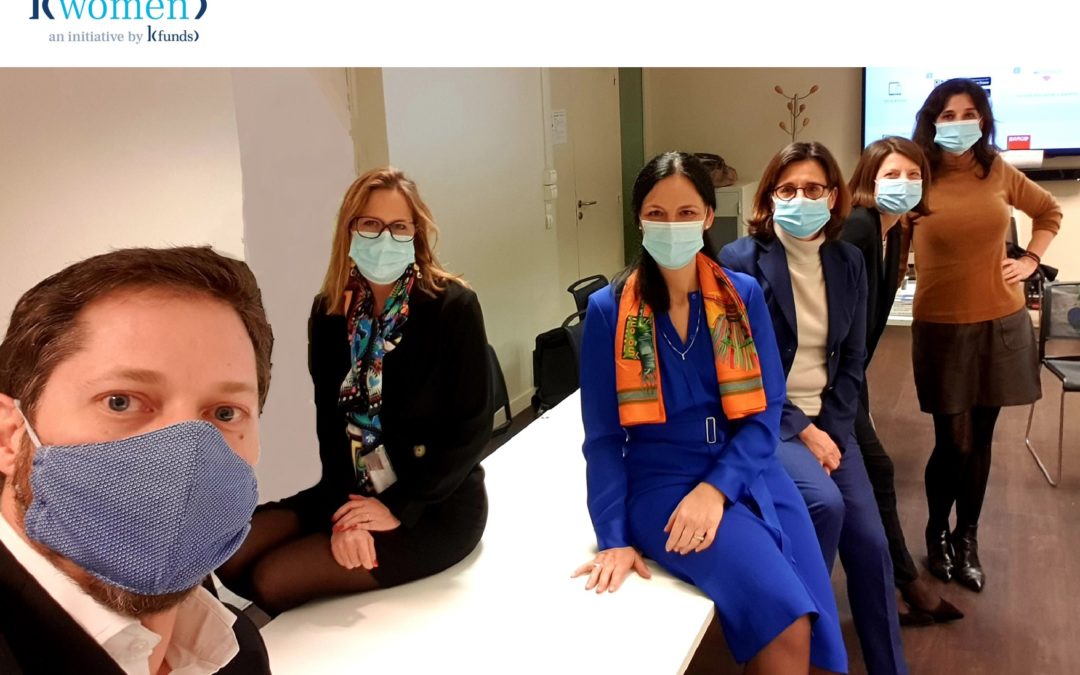 December update
– November was one the strongest month on record for global equities following the US election and more importantly several announcements related to covid-19 vaccines. This strong rebound was led by cyclical and value sectors like Energy and Financials while defensive and growth sectors like Technology and Healthcare lagged behind. Despite the current exuberance towards value stocks, we remain convinced that quality growth funds (World, US, Europe, Thematics, Latin America) will keep their attractiveness since the economic conditions that prevailed before the pandemic, i.e. low growth, low inflation and strong support from monetary policies resulting in low interest rates, are likely to last for a prolonged period.
– We are about to launch a new innovative ESG Ucits fund in partnership with a large established manager. News to come on this early in the new year. 
November update
– Global markets had a rollercoaster month in October. Equities started well on hopes of a solid Q3 results season and another fiscal stimulus in the US but eventually gave back all their gains as democrats and republicans couldn't agree on a new package and faster-than-expected rise of Covid infections triggered more lockdown restrictions.  Since US Elections, vaccines press announcements and headlines have generated volatility.
 – Across the fund range, performance was challenged in October, nevertheless since the beginning of 2020, 100% of our funds are strongly outperforming their benchmarks.
October update
– Global equities fell in September following five consecutive months of positive performance. Several reasons were given to explain this downward move including profit-taking ahead of the US elections, fears that the economic recovery may stall due to the second wave of infections and uncertainties related to the next round of US fiscal stimulus. Considering the months ahead and majors headlines to come (US Elections, Covid, Brexit,…), high volatility should be expected.
– Overall, most partners funds demonstrated resilience in September and outperformed their respective benchmark. Year-to-date, relative to benchmarks, the fund range (ex EM) is performing strongly.
– We hosted our second 'K Women – Leader's tips' (off record with Top European Leaders) in Paris on October 8th with as guest incredibly talented Christine Jacglin, CEO of French Banque Palatine (BPCE) and who has headed several other banks before.
K Women Leader's tips in Paris with guest: Christine Jacglin, CEO of french Banque Palatine (BPCE) and who has headed several other banks before.